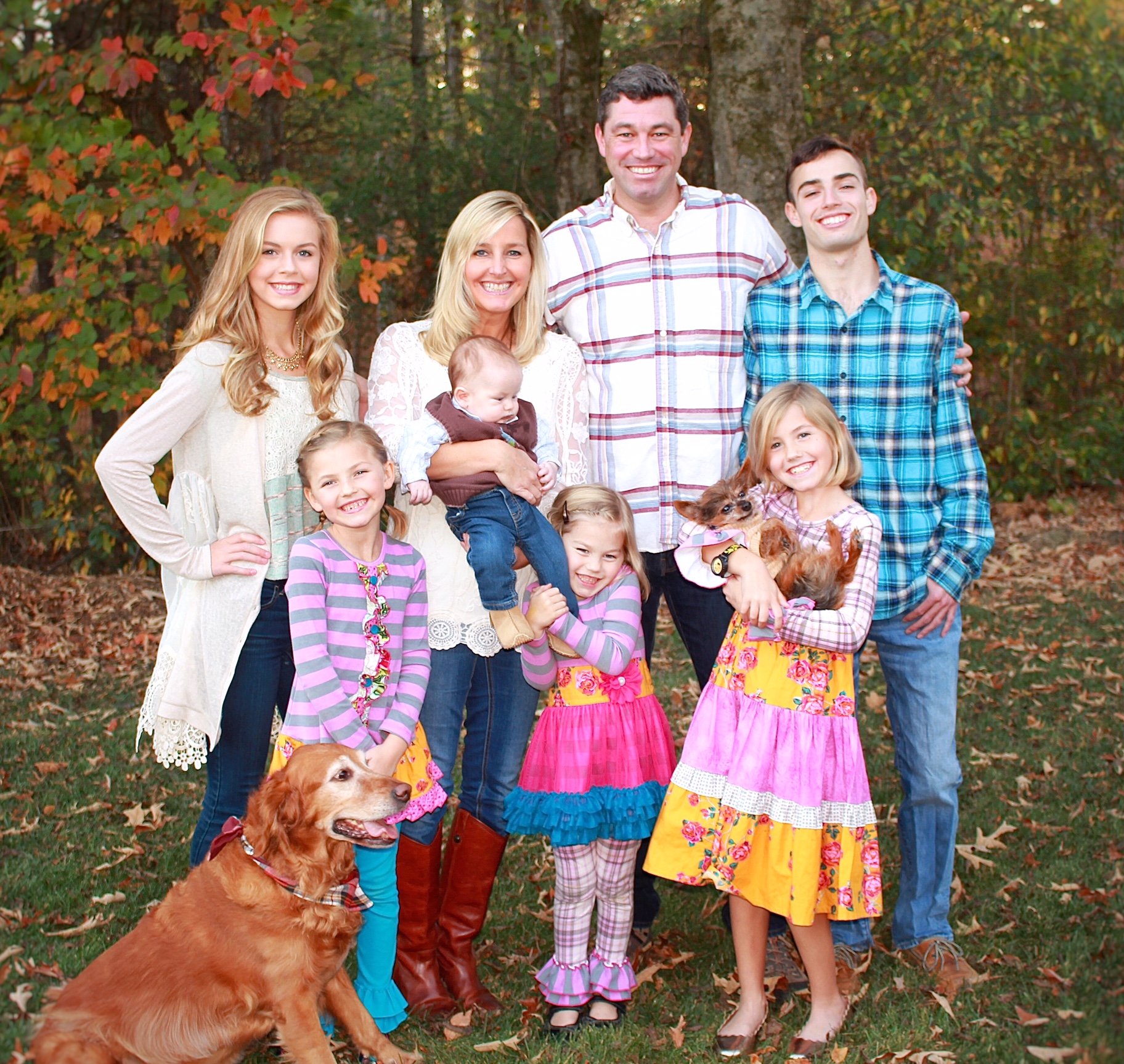 I'm the President of Crown and the author of The Leap: Launching Your Full-Time Career in a Part-Time Economy and Love Your Work: 4 Practical Ways to Pivot to Your Best Career. After working with many people since 2007 who were entering the work force unable to find full-time work or who lost their jobs due to downsizing or companies closing I felt compelled to write this book.  The economy is changing and it is impacting us all.  I felt the things I learned as I took the leap from welfare to leadership position in the corporate world would help people taking the leap in their careers today.  You can read more about why I am passionate about this blog at this post, From Welfare to CEO…My Dream For a Better Future. I believe that hope for the future is what will propel us to find our dream job, advance in our profession, leap to a new career, or start a new business. I believe taking the leap is the safest thing we can do today.
They say that the experience comes from trial and error and that our failures teach us the most.  I have my fair share of failures…some of them epic.  Luckily I have survived and I am not embarrassed to talk about them.  In some respects they gave me a better education than the ones I received in college.  The real world has a way of doing what a book cannot.  So here's a little of my background not just the standard resume success stories but the failures as well.  After all, I think the failures are the most valuable. I think everyone is scared of failure at some point in their life but once you experience it, even though it is painful, you realize life goes on and it becomes a liberating experience and the fear of failure slowly dissipates.  I hope you will participate and share your successes and failures as well so others can learn what has worked for you and what you have learned on your journey.
The Present
I am the President of Crown.  I've been blessed to be a part of a great team and people who continue to encourage me to write on topics I am passionate about.  This year I have had some of my articles published by USAToday, FOX News, The Washington Times, The Boston Business Journal, The Wall Street Journal Market Watch, and The Federalist and have had the chance to be a guest on a variety of radio and television outlets.  I continue to find myself outside my comfort zone but that is part of the fun in taking a leap.  I always take opportunities to grow and continually learn.
I am a "hired-gun executive" which basically means twice I have been hired by companies to come in as a CEO and President to tackle a challenge they were having.  I am also a consultant and I love working with companies and teams in that capacity.  Every consulting job offers something new and unique and I love using my past experiences to help a team overcome a challenge.  I've worked in the military, private business, and non-profit sectors during my career and love all three.  Although I have helped companies in multiple phases to include start-up, high-growth, and turn-around environments, my favorite is the start-up phase and team building and coaching.
The Military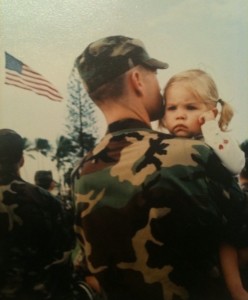 Before I entered the business world I served for over 6 years as a captain in the United States Air Force in various assignments that afforded me the opportunity to travel and experience many cultures first hand.  I almost didn't join the military and a last second dinner with mentor convinced me it was a good decision and it turned out to be one of the best decisions of my life.  I was blessed with an incredible mentors in my first two commanders in the military, LTC Gibbs and LTC Springer.  Both had a tremendous impact on my life and the lessons they taught me I carry to this day.  I was fortunate to have many great experiences but the one that had the biggest impact on me was when I was the Aide-de Camp to Four Star General William Begert, Commander of the Pacific Air Forces. I learned so much by watching him and serving under his leadership.  I got rare behind the scenes knowledge on many visits to Washington, D.C where I was able to meet with members of Congress and Pentagon officials. I was in daily contact with the highest levels of US Government, foreign militaries, and civilian and industry leaders as we traveled around the world. This experience and insight into the operation of industry and worldwide government was a pivotal time in my career and I stay in contact with many of those leaders to this day.
My Start
I received an offer in 2004 to become the CEO for SMT, an international retail and training company that serviced the direct sales and network marketing industry.  It was a great opportunity and I learned a lot.  As the CEO of SMT, I was blessed to be a part of a great team and we added many fine members to the organization that helped lead a turn-around and eventual merger with another company.  As a team, we helped SMT more than triple in size from 2004 to 2009.  It was pretty exciting.  This chapter of my life is filled with great memories but also some failures. I love and respect the members of that team and am still close to most of them today.
The Leap
Having helped the organization more than triple in size and then merge it with another company I was ready for another challenge and I eventually resigned in 2009 to co-found a technology company and launch a consulting practice.  This was a great time to gain new perspectives, do some soul searching, and review the past five years of my life.  I pursued a passion project that helped unlock a lot of creativity that I was unable to release before.  I learned never to make decisions based on money, failure is not permanent, trust is everything, partners are key, never sacrifice your values, don't be afraid to walk away, and to always be thankful for opportunities and mentors and the roles they play in your life.  Life is not easy but each chapter offers something special and it is important to focus on the positive.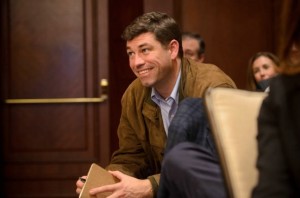 Through a friend I was introduced to Crown and was hired as a consultant to help with a turn-around project that included multiple initiatives.  I immediately connected with the mission, the people, and their CEO Chuck Bentley.  The Crown family is one of the most dedicated and impressive groups of people I have worked with in my career.  I was honored when I was asked to join the team as President of Crown in 2011 and I sold my ownership stake in the company I co-founded.  It's been a difficult journey with Crown at times. As we re-organized and built for the future some members of the team unfortunately were let go. That has been painful because they all have been great people with passion, character, and integrity.  It has been great to see them transition to other roles where they continue to serve and make a difference in the world.
Family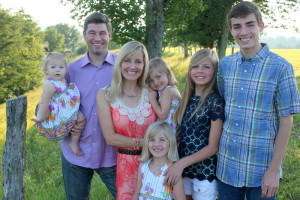 I've been married 20 years to my wife Brandi who is better than me in all respects and is the one constant in my life always encouraging me to keep pressing forward no matter how difficult the path may be.  We have been blessed with five wonderful children (Lachlan, Trista, London, Amaris, and Charlize) who show me daily the beauty, innocence, and incredible potential of this world.
I have served on multiple non-profit boards and as any one who has served in charity and mission work will tell you, I feel I have received far more than I have given.  I don't think it is possible to truly enjoy life if we don't live a life of service to others.  It is the greatest experience and joy one can have.
A Little Extra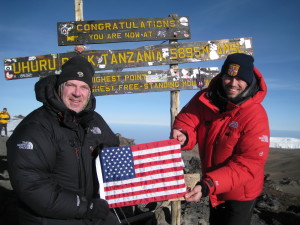 I am an avid mountain climber because up on a mountain away from technology and the connected world, I become one with the environment, can suddenly hear my inner voice, and feel the closest to God.  I am a runner because I failed at soccer, baseball, and basketball in high school and there were no tryouts for track and cross-country.  Everyone made the track team and it came down to who worked the hardest, had the most guts, and could endure the most pain.  That was the perfect place for a no talent kid like me to excel.  I eventually found out running could take you far in life.  I was blessed to receive an athletic scholarship to the University of Tennessee, was named the Air Force Athlete of the Year in 1999, and was the third American finisher in the Boston Marathon in 2003.  Running taught me that pain is temporary and that those who work hard, never give up, and are dedicated with a relentless drive to do their best can surprise themselves, others, and go farther than they thought possible.
My Vision
Now that you know a little about me I'd like to hear about you.  I'd like to hear about your journey, your successes, failures, and stories of how you overcame obstacles in your way.  More importantly, your stories and insight will be an encouragement and will provide inspiration to other readers who may be going through a similar circumstance.  My vision is that the collective content of shared stories and experiences on this site will help everyone who is on the journey and navigating this new economy.  Your participation whether great or small could have a big impact on someone's life.
Get Started
To get started I recommend reading my post Take The Leap that explains why leaping is so important.  Then check out The 2007 Black Swan that highlights what happened in 2007 that has fundamentally changed the economy and impacts how all of us moving forward.  Interviewing Harvard professors, CEOs, entrepreneurs, I put together a 7 step plan of things everyone should be doing.  Start with Step 1:  Plan Deliberately.
If you would like to stay informed of new posts on this site please sign up for our e-mail list.  You will get notified when I post something new and in the coming months I will be providing free e-books and resources for those members on our e-mail list.  To receive these free resources sign up here.
Thank You!
I would like to say thank you to those who have encouraged to pursue writing on this subject.  First, my friend Chuck Bentley who encouraged me to find my voice and has coached me along the way. Second, for the Moody Collective team to include Randall Payleitner and Natalie Mills who invited me to be a part of their team. They have been amazing to work with.  Finally, to my publicist Kristi Hammerick who has become a close friend in this journey who I trust and respect immensely.